In Memory
Tim Tyler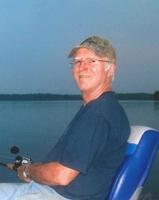 DOB: 3/12/49
DOD: 10/16/18
Timothy J. Tyler, 69, passed away unexpectedly on October 16, 2018, at Luther Hospital in Eau Claire with his son, Andrew, at his side.
Tim was born in Eau Claire on March 12, 1949, to Ray and Phyllis (Jennings) Tyler. He was a member of the Memorial High School class of 1967 where he was an All-Star pitcher on the Memorial Baseball Team. He later pitched for the Eau Claire Cavaliers and enjoyed coaching many Little League and Babe Ruth baseball teams.
Tim met his wife of 45 years, Marjorie Lee, at Fourniers Ballroom in 1967. They married in the summer of 1973 and were blessed with 2 children; Andrew in 1978 and Katrina in 1981.
Tim was a gifted carpenter and woodworker. He worked many years for Fern Construction and also built countless custom furniture pieces. Tim worked for the last 11 years as a carpenter at Lutheran Social Services maintenance department. He enjoyed his work and the clients he helped so much and was still employed at LSS part-time at the time of his death.
Tim's favorite place on earth was at the family cabin near Hayward, Wisconsin. The additions and countless improvements by Tim made the cabin a much loved destination for the entire family. He especially enjoyed taking his beloved grandchildren bird hunting in the beautiful Chequamegon Forest.
Tim was, indeed, one of the "helpers" of the world, making life easier for so many people. He truly was a man of all trades. Tim was "Dad" to the many friends of Andy and Katie and often said he felt blessed to have so many "children"! Bowling was one of Tim's favorite hobbies and he loved the time spent with his son and close friends in the 2 leagues he participated in. He was a huge fan of the Packers and the Brewers, but nothing meant more to him than his family. We are grateful for his love that will always be with us.
Tim and Marge were lifelong members of Grace Lutheran Church, celebrating their joys and sharing their sorrows with a loving congregation.
Tim was preceded in death by his parents, infant brother (Thomas), and Marge's parents, Dr. Robert and Mary Lee. He is survived by his wife, Marjorie, children Andrew Tyler (grandsons Donovan and Grayson Tyler) of Eau Claire and Katrina Tyler of Minneapolis, MN.
He is further survived by his brother Robert Tyler and sister Mary Rae (Larry) Hoepner, sister-in-law Brenda (Tony) Roach, sister-in-law Susan Moore, and brother-in-law John Lee. Tim is also survived by many dear nieces, nephews and good friends.
A memorial service will be held on Sunday afternoon, October 21, 2018 at 2:00pm at Grace Lutheran Church in Eau Claire, followed by a gathering of friends and family at the Church from 2:30pm-4:30pm.
Friends and family may offer condolences online at www.hulkefamilyfh.com.
Hulke Family Funeral Home & Cremation Services, 3209 Rudolph Road, Eau Claire, WI 54701 is assisting the family with the arrangements.