In Memory
Rod Becker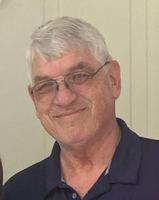 Rodney A. Becker, 71 of Ladysmith, died on Sunday, July 11, 2021 at Marshfield Medical Center in Eau Claire. Rod was born on August 30, 1949 in Eau Claire, WI. He was the youngest of 7 children, growing up in Eau Claire. He graduated Memorial High School in 1967. His love for sports in high school carried into his adult life. Rod graduated from UW-Eau Claire with a Bachelor of Science in Accounting and Business Administration while also serving in the US Army reserves. Rod married his high school sweetheart, Bette, on June 7th, 1969. In their 35 years of marriage, their family was blessed with 4 children and 13 grandchildren, plus some amazing in- laws.

Rod loved sports and his grandkids. Whether it was golfing or fishing, or cursing at the TV during a packer game, Rod never wanted to miss a sporting activity, especially those of his children and grandchildren. His kids fondly remember Rod yelling at the refs and coaching from the stands. But most importantly, Rod cherished every opportunity he had to spend time with his family. Rod also loved the Northwoods and treasured time at the hunting shack with the guys. He solved many of the world's problems at coffee with men in the community over the years.

Rod was President and CEO of Ladysmith Savings and Loan for 18 years. He worked and served the Ladysmith community in many other ways as well. Rod volunteered countless hours with the Ladysmith Kiwanis and served on several committees at Hope Lutheran Church.

In Rod's retirement, he spent precious time traveling with his significant other, Pam. Over 9 years, Rod and Pam travelled often in the southern part of the US, enjoying cruises and loving the warm weather. Rod extended his family through Pam, attending sporting events and enjoying various gatherings with her family.

He is survived by his 4 children; Angie & Darren Buchli and their children: Zachary, Allison, Cady, and Sarah of Rice Lake; Chad & Jody Becker and their children: Maggie, Lucy and Gus of Salem, OR, Susan & David Belany and their children: Kayla, Alicia, Rebecca, and Greta of Hudson and Craig & Carrie Becker and their children: Kylee and Kaden of Ladysmith; his significant other Pam Koosmann of Ladysmith, 2 sisters; Virginia Becker of Eau Claire and Carol Newby of Plover and his former wife Bette Becker of Eau Claire.

Rod is preceded in death by his parents, Raymond and Frances (Werner) Becker; sisters, Beverly Klein and Joyce Becker; brothers, Jim Becker and Bill Becker.

Funeral services will be held at 12:00 Noon on Friday, July 16, 2021 at Hope Lutheran Church in Ladysmith with Rev. Christopher Martin officiating. Burial will follow in Riverside Cemetery in Ladysmith with military honors provided by the Ladysmith Veterans Association. Visitation will be held from 9:00 AM until 12:00 Noon on Friday at the church. Nash-Jackan Funeral Home is assisting with the arrangements.
Published by Leader Telegram on Jul. 13, 2021.