In Memory
Steve Olson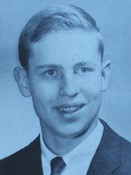 Birth:
Jun. 18, 1949
Death:
May 19, 1973
Burial:
Lakeview Cemetery
Eau Claire
Eau Claire County
Wisconsin, USA
Posted: Monday, May 21, 1973 (Eau Claire Leader Telegram)
Steven Olson, 23, of 418 Marston Ave, died Saturday night in a car-train accident about 4 miles east of Fall Creek.
He was born June 18, 1949, in Eau Claire and graduated from Eau Claire Memorial High School in 1967. He attended Wisconsin State University – Eau Claire and graduated from Sacred Heart School of X-Ray Technology in July 1970, from the University of Minnesota School of Nuclear Medicine in July 1972 and from Fort Snelling Veterans Administration Hospital.
Mr. Olson graduated in January 1973 from the Ultrasonography School at the University of Oklahoma and had been employed by Scared Heat Hospital in the Diagnostic Ultra Sound Department.
Survivors include one son, Travis Olson, Eau Claire; his parents, Mr. and Mrs. Vernon G. Olson, Eau Claire; and three brothers, Thomas V. Olson, William D. Olson, both of Eau Claire, and Jon R. Olson, Rt.1, Fall Creek.
Funeral services will be at 1:30 p.m. Wednesday at Grace Lutheran Church with Rev. Julian Thorson officiating. Burial will be at Lake View Cemetery.