In Memory
Gerald Mohn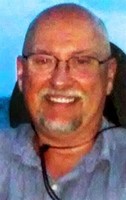 DOB: 2/10/49
DOD: 2/29/16
Gerald "Gerry" A. Mohn, 67, passed away in his sleep on February 29, 2016, at his home in Wisconsin Rapids.
Gerry was born February 10, 1949 to Harry Mohn and Gladys (Hegna) Mohn in Eau Claire, Wisconsin. Gerry worked 35 years as a pipefitter/​plumber for United Association of Plumbers and Steamfitters Local 434 before retiring in 2009. He married Judith (McKinney) Hughes on December 24, 1987 in Wisconsin Rapids. They were married almost 27 years until Judy's passing in October 2014.
Gerry loved the outdoors and was an avid hunter, fisher, and golfer. He also enjoyed making homemade wine, gardening, woodworking, playing cribbage, and strumming his guitar and singing around the campfire at hunting camp. He enjoyed spending time with his dog, Maggie, oftentimes taking her on his fishing boat. Gerry was a kind, generous, patient man with a heart of gold and will be deeply missed by those who knew him.
Gerry is survived by his children, Eric (Richard) Mohn, Katie Collingwood, Larry (Mary) Hughes, Jr, Leonard (Sandra) Hughes, Libby (Jim) Raymond, his grandchildren Jordan Collingwood, Logan Hughes, and Hailey Hughes, his brother Fred (Judy) Mohn, and many friends who called him "Gerbo." He was preceded in death by his parents, Harry and Gladys Mohn, and his wife, Judith Mohn.
Per Gerry's wishes, a private, family service will be held at a later date. Herman-Taylor Funeral Home is assisting the family with arrangements.
The family wishes to extend a special thank you to Tom and Judy Byrnes, Gerry's dear friends and neighbors, for their kindness and friendship.