In Memory
John Warnke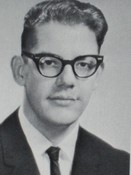 DOB: Feb. 28, 1949
DOD: Oct. 21, 1999
John Warnke, 50, of Eau Claire, passed away at his Town House in Coon Rapids, MN.
He was born Feb. 28, 1949, in Cook County, Chicago, IL, to Mabel and Hugo Warnke.
He graduated from Memorial High School in 1967 and the UW-Eau Claire School of Nursing in 1976. He worked 23 years at a local clinic hospital in neurosurgery. He was currently working at MAPS Pain Clinic in Coon Rapids, MN.
He married Linda Lee Lucas on Aug. 16, 1969, at Epiphany Lutheran Church, Eau Claire. They recently celebrated their 30th wedding anniversary.
He is survived by his wife, Linda of Eau Claire; one daughter, Lorinda (Brian) Horky of Elk Mound; one son, Eric Lucas Warnke of Minneapolis; one grandson, Nicholas William Horky; one sister, Betty Jane Buckner of Eddyville, KY; three godchildren, Geoffrey Hurlburt of South Bend, IN, Bethany Payton of Lansing, IL and Katelyn Mercer of Pepin, WI; many nieces, nephews grandnieces and nephews.
He was preceded in death by his parents and one sister, Elaine Solan.