In Memory
Richard Voss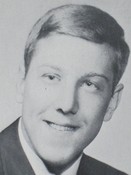 DOB: March 1, 1949
DOD: June 2, 1973
Burial:
Lakeview Cemetery
Eau Claire
Wisconsin, USA
Posted: Monday, June 4, 1973 (Eau Claire Leader Telegram)
Richard Voss, 24, of 732 Gilbert St. died Saturday at St. Mary's Hospital in Rochester, Minn., from injuries suffered in an accident in which an auto he was riding in collided with a train in Augusta on May 19th.
He was born in Eau Claire in 1949 and graduated from Memorial High School. He was a veteran of the U.S. Marines and attended UW-Eau Claire.
He is survived by his parents, Mr. and Mrs. Edward Voss, Eau Claire; two sisters, Mrs. Connie Jo Stafford and Susan, both of Eau Claire; and grandparents, Mrs. Charlie Brabec, Washington, Kansas, and Mrs. Emma Voss, Eau Claire.
Services will be at 1:30 p.m. Wednesday at Lutheran Church of the Good Shepard with Rev. M. W. Bulgerin officiating. Burial will be in Lakeview Cemetery.