In Memory
Gary Thompson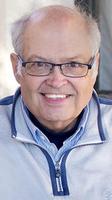 Gary Nanian Thompson, 69, of Eau Claire, died Monday, August 5, 2019, at University Hospital in Madison.
Gary was born in Eau Claire to Nanian and Audrey (Bergum) Thompson on August 12, 1949. He grew up on Water Street and graduated from Eau Claire Memorial High School in 1967. He attended Bethany College in Mankato and graduated from the University of Wisconsin Eau Claire in 1972 with a degree in education. He went on to earn his master's degree from UW-Stevens Point. Gary also served in the Wisconsin National Guard for many years.
Gary married his high school sweetheart Paula Gehrke on his 23rd birthday, August 12, 1972, in Eau Claire, and they have celebrated nearly 47 years together. They recently relocated to the Madison area to be closer to their children and grandchildren.
Gary was a dedicated educator for 32 years. He started his career in Wisconsin Rapids as a geography and U.S. history teacher and moved back to Eau Claire in 1981, where he taught the remainder of his career at DeLong Junior High/Middle School. Gary's passion for history extended beyond the classroom. He enjoyed working as a tour guide at the Paul Bunyan Logging Camp in Eau Claire after he retired.
An avid lover of sports, Gary coached various school and community teams, including those of his three children. He also served as athletic director at DeLong for many years and enjoyed showcasing his broad knowledge of sports as a radio color commentator for local high school sporting events.
Gary was very involved in his church and community. He worked with the youth programs at the Lutheran Church of the Good Shepherd for many years. Gary also had a deep love of baseball and devoted much of his time to Eau Claire Babe Ruth as a coach and board member. He shared his love of the game with his family and has passed it on to his children and grandchildren.
Gary is survived by his wife, Paula; one son, Benjamin (Emily) Thompson of Stoughton, WI; two daughters, Abigail (Brian) Marish of DeForest, WI, and Molly Thompson of DeForest, WI. Gary was an extremely loving and proud grandfather. He had a special place in his heart and was an exceptional role model for his four grandchildren, Harper and Brooklyn Marish and George and Clifford Thompson.
He is further survived by his mother, Audrey, of Eau Claire; two brothers, David Thompson of Eau Claire and Brian (Susan) Thompson of Altoona; one sister, Lynette (Jim) Firle of Elk River, MN; one brother-in-law, Pete (Carol) Gehrke of Amherst, WI; two sisters-in-law, Karen (Paul) Holverson of Ottawa, IL, and Juelie Sires of Eau Claire; one aunt, Lois Petersen of Brown Deer, WI, as well as eleven nieces and nephews.
Gary was preceded in death by his father Nanian, father-in-law and mother-in-law Paul and Betty Gehrke, and brother-in-law Bob Gehrke.
Funeral services will be held at 11:00 a.m. on Tuesday, August 13th at the Lutheran Church of the Good Shepherd, 1120 Cedar St., Eau Claire. Visitation will be one hour before the service at the church. Burial will be in Lakeview Cemetery, Eau Claire. Lenmark-Gomsrud-Linn Funeral and Cremation Services is assisting the family with arrangements. For online condolences, please visit www.lenmarkfh.com