In Memory
Clyde Taylor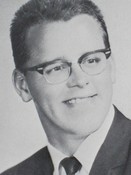 DOB: July 26, 1948
DOD: June 30, 1977
Posted: Friday, July 1,1977 (Eau Claire Leader Telegram)
Clyde I. Taylor, 27, Rt. 2, died of natural causes Thursday at Menard Farms.
Mr. Taylor was born in Eau Claire and was a life-long resident of the Town of Union. He received a bachelor's degree in animal science from the UW-River Falls in 1972 and was a herdsman for Menard Farms.
Survivors include his parents, Mr. and Mrs. Mayson Taylor, Eau Claire; a brother, Ray, Eau Claire; and three sisters, Mrs. Betty Rossiter, Spring Valley, Mrs. Margaret Williams, Bremerton, Wash., Mrs. Doris Brown, Eau Claire.
Services will be at 2 p.m. Tuesday at Truax Congregational Church, with burial in Lakeview Cemetery.