In Memory
Patricia Steubing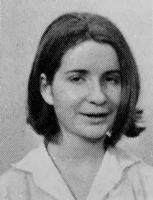 DOB: Jan. 19, 1949
DOD: Sept. 26, 1981
Posted: Wednesday, September 30, 1981 (Leader Telegram)
Patricia Ann Steubing, formerly of Eau Claire, died Saturday in Eugene, Ore.
She was born in Eau Claire and was a 1980 graduate of the University of Oregon.
Survivors include her mother, Arlene Stark, Eau Claire; and three half-sisters, Leone Wegner, Chippewa Falls, Doloris Eldridge, La Crosse, Gladys Steubing, Eau Claire.
Cremation was in Oregon.