In Memory
Orrin Stai Jr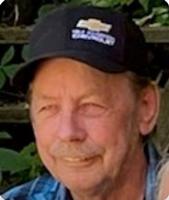 Orrin "Junior" Stai
Orrin Kenneth Stai Jr., age 73, of Mondovi, known to many as "Junior," passed away on Friday, May 13, 2022 at his home surrounded by his loving family. He was born on April 14, 1949 in Eau Claire, WI, a son of the late Orrin and Bertha (Berg) Stai. Junior graduated from Memorial High School in 1967. He was united in marriage to Pat Thompson on April 14, 1979 in Mondovi until her death in 1986. To this union one daughter, Crystal, was born. On May 19, 1990, Junior was united in marriage to Kathy Schultz in Mondovi.
In his early years, Junior worked at Presto in Eau Claire until moving into painting, through which he worked on bridges and water towers, later moving into commercial and residential projects.
Junior had many hobbies which included snowmobile and stock car racing, garden tractor pulling, hunting, fishing, and gardening. He was an avid NASCAR fan until the passing of Dale Earnhardt Sr. Throughout his life, Junior had the privilege of traveling internationally and throughout the U.S.
In the summer, he could be seen sitting in his garage prompting many social visits or tending to his yard and garden. Junior was known to be a jokester around his friends, especially at the local watering holes. If you met him, you'd never forget him.
Junior will be forever remembered for his kindhearted nature and willingness to help out his family and friends.
Junior will be sadly missed by his wife, Kathy Stai of Mondovi, his daughter, Crystal Stai of Mondovi, grandchildren Braden, Magen, and Karsten of Mondovi, stepchildren Jodi Keene of Prairie Du Chien, WI and Jeff Keene of Elkader, IA, siblings Joanne Robertson of Strum, WI, Vivian (Jerry) Kilgore of Dublin, GA, Richard (Debbie) Stai of Clarksville, TN, Ronald Stai of Appleton, WI, John (Barb) Stai of Ontario, WI, Thomas (Robin) Stai of Huron, SD, sister-in-law Barbara Rustad of Mondovi, brothers-in-law Steve Schultz of Mondovi and Emil Schultz of De Pere, WI, and also by many aunts, uncles, nieces, nephews, cousins, other relatives, and dear friends.
He was preceded in death by his parents, two brothers Duwayne and Robert Stai, three sisters, Patricia Stai, Dianne Schwartz, and Barbara Meistad, father-in-law Harold Schultz, mother-in-law Norma Schultz, brothers-in-law Gordy Meistad, Tony Robertson, Howie Johnston and Doug Rustad along with other family members.
A memorial service to celebrate the life of Junior will be held on Friday, May 20, 2022 at 1:00 PM at Talbot family funeral home, Mondovi Chapel, with Chaplain Gary Prestion officiating. Inurnment will be at Rock Falls Cemetery, Rock Creek, Dunn County, WI.
A memorial gathering will be held on Thursday, May 19, 2022 from 4:00 PM until 7:00 PM and again on Friday from 12:00 noon until the hour of the service.