In Memory
Steve Salter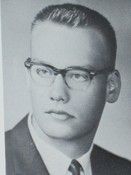 Published 04/05/2000 in The Leader-Telegram
Naperville, IL---Steve A. Salter, 51, Naperville, IL, formerly of Eau Claire, died unexpectedly Wednesday, March 29, 2000, while on a business trip in Dayton, Ohio.
Steve was born in Eau Claire on Dec. 7, 1948, the son of Harvey and Mabel (Bandoli) Salter. He graduated with honors from Memorial High School in Eau Claire. Steve was a member of the National Honor Society. He lettered in football, track and field and held the school record in the shot put for many years. Steve received his BA in business and his MBA from the University of Wisconsin-Madison. During his college years he lettered in crew (rowing). Steve was past president of the UW-Madison Rowing Association. Steve also served in the Naval Reserve, being stationed in Pensacola, Fla.
Steve loved spectator sports. He attended many Wisconsin Badgers away games and had been at all Big Ten stadiums. Steve especially enjoyed attending the 1999 Rose Bowl game in Pasadena, Calif. He also enjoyed the Green Bay Packers, Milwaukee Bucks, Milwaukee Brewers, Badger ice hockey and crew (rowing).
Steve enjoyed traveling. He went to Hawaii with his parents and made numerous trips to Europe with his father. Steve golfed with his father twice at St. Andrew's in Scotland.
Steve was a member of First Baptist Church in Eau Claire. He was also a member of the Wisconsin Alumni Association, National " W" Club and UW Rowing Association.
Steve was employed at Desman Associates, Chicago, IL. He was a senior parking planner.
Survivors include his sister, Karen Salter, of Kenosha; aunts, Marie Salter, Shirley Salter, Orlaine Salter, Ragna Price and Monica Bandoli, all of Eau Claire. He is further survived by many cousins and friends.
He was preceded in death by his parents.
Funeral services will be held at 11 a.m. Saturday, April 8, 2000, at First Baptist Church in Eau Claire with Pastor David Christner officiating. Interment will be in Lakeview Cemetery in Eau Claire.
Relatives and friends may call Friday from 4 to 8 p.m. at Stokes & Mundt Funeral Chapel in Eau Claire and Saturday an hour before services at the church.
The family suggests memorials to First Baptist Church, UW-Madison Rowing Association or the charity of your choice.
Copyright ©2000, The Leader-Telegram