In Memory
William Roth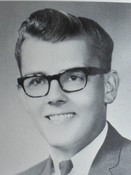 Birth: Sept. 22, 1949 Death: Oct. 14, 2009
NORTHPORT, Ala. - William F. Roth, age 60, of Northport died Oct. 14, 2009, at Noland Hospital.
Services will be at 2:30 p.m. today at Magnolia Chapel Funeral Home North, Northport, Ala., with the Rev. Steven Wallace officiating. Burial will follow in Sunset Memorial Park, with Magnolia Chapel Funeral Home North directing. Visitation will be one hour prior to the services at the funeral home.
William was preceded in death by his father, Jacob E. Roth; and his mother, Dolores L. (Miller) Roth.
Survivors include his beloved wife of 39 years, Diane L. Roth of Northport; his daughters, Lisa Christine Roth of Hoover, Ala., and Dana Elizabeth Rinehart (Daniel) of Northport; his sister, Sally Otterson (William) of Toledo, Ohio; and his grandson, Scott William Rinehart of Northport.
William served in Vietnam from 1970 to 1971, with the U.S. Army 101st Airborne. He was a life member of VFW Post 305 in Eau Claire, a life member of Disabled American Veterans Tuscaloosa No. 1 Chapter, a life member of Combat Infantrymen's Association and a member of Scottish Rite Eau Claire Lodge 0112 F&AM for 27 years.
Bill and Diane were married Oct. 31, 1970, in Eau Claire.
Bill worked at Uniroyal in Eau Claire for 22 years and BF Goodrich in Tuscaloosa, Ala., for 18 years in the powerhouse as a boiler operator.
He will be sadly missed by is family.
Pallbearers will be Daniel Rinehart, Keith Moore, Robert Wilson, Gary Blaylock, Bob Murphy and Billy Tant.
Honorary pallbearers are coworkers at BF Goodrich.

Leader-Telegram, Eau Claire WI
Published 10-15-2009