In Memory
Judy Pabst (Johnson)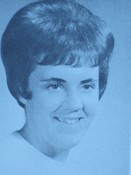 DOB: June 13, 1949
DOD: Sept. 15, 1995
Judy (Pabst) Johnson,46, of Mondovi, died Friday, September 15, 1995, at Sacred Heart Hospital in Eau Claire.
She was born June 13, 1949, in
Eau
Claire, the daughter of Harold and Dorothy (Marten) Pabst. She was a 1967 graduate of Memorial High School. She was married October 21, 1967 in
Cleghorn
to Robert D. Johnson. They farmed for 20 years in the
Eau
Claire and
Mondovi
areas. Judy was employed for a time by the
Eau
Claire Board of Education. She has been a resident of
Mondovi
for the past 4 years. She was a member of Zion Lutheran Church of
Mondovi
and the Pleasant Valley Snowmobile Club.
Survivors include her husband Robert D. Johnson,
Mondovi;
three sons, Craig (Jill) Johnson,
Mondovi
, Scott Johnson, Merrill, and Rob Johnson,
Mondovi
; parents, Harold & Dorothy Pabst,
Cleghorn
; two brothers, Gary (Gloria) Pabst,
Eau
Claire, and Rick (Amy) Pabst,
Woodville
; three sisters, Kathy (Ken)
Blodgett
,
Mondovi
, Connie (James)
Germann
,
Brackett
, Penni (John) Anderson,
Osseo
; four brothers-in-law, Arnold (Irene) Johnson,
Altoona
, Howard (Donna) Johnson,
Eau
Claire, William (Kathy) Johnson,
Eleva
, Allen Johnson,
Mondovi
; one sister-in-law, Sharon (Joe) Hanson, Elk Mound.
She is buried in Oak Park Cemetery in
Mondovi
.