In Memory
Jim Moessner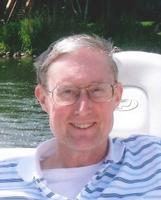 DOB: 1/13/49
DOD: 1/28/20
James (Jim) Karl Moessner was born 01/13/1949 to parents Karl and Emma Louise (Muntz) Moessner in the Third Ward neighborhood of Eau Claire, WI. After long suffering from Multiple Sclerosis Jim passed peacefully in Eau Claire on 01/28/2020.
Jim was born and raised in Eau Claire. He was an only child. However, Jim had four brothers by choice built from bonds formed at a young age in Eau Claire. Jay, Carl, Dave and Art shared many significant life moments together. As adults Jim loved the annual fishing trips the brothers would take together each year in Northern Wisconsin.
Jim graduated from Memorial High School in 1967 and from the University of Wisconsin-Madison in 1972. Jim had a passion for real estate and appraisal. After graduation Jim went to work with Bob Anderson at Anderson Appraisal. It would be the only place Jim ever worked during his career in real estate appraisal. In time Jim became partners with Bob and the business became Anderson Moessner Apprasials.
Jim met Nancy Zanotelli while she was attending the University of Wisconsin-Eau Claire. They were married in Greendale, WI in 1973. Jim and Nancy were blessed with two sons, Jeffrey and Jason. Jim cherished raising his family in the Eastside Hill and Putnam Heights neighborhoods of Eau Claire. Jim was blessed with three grandchildren, Caleb, Maggie and Wyatt. Jim had many glowing smiles watching his three grandchildren grow. Jim was a true family man.
Jim loved vacations with his family. There were many trips to Florida. Jim most enjoyed taking long trips by train. Seattle, Montana and New Orleans were some of his favorite train trips the family took together. In retirement Jim and Nancy loved their cottage on Clear Lake in New Auburn, WI. Many family holidays were spent together at the cottage.
Jim maintained much physical and mental abilities during the onset of MS. The disease eventually took his entire body and mind. Jim was ready for the disease to let him go.
When he passed, Jim walked free and easy up the stairway to meet Jesus.
Jim was preceded in death by his parents, Karl and Emmy Lou and Father in Law Victor Zanotelli (Ruth Underdale). Jim is survived by his wife Nancy, sons Jason and Jeff, daughter in law Vanessa (Anderson) grandchildren Caleb (12), Maggie (11) and Wyatt (7), cousins, sister and brother in law Jeanne (Zanotelli) and Richard Hibbard, and mother in law Ruth (Underdale) Zanotelli.
Funeral service will take place at 11 a.m. on Tuesday, February 4, 2020 at First Congregational UCC, 310 Broadway St, Eau Claire, WI 54703, with Rev. Dr. Mark X. Pirazzini officiating. Visitation will take place from 4 p.m. to 7 p.m. on Monday, February 3, 2020 at Hulke Family Funeral Home, 3209 Rudolph Road, Eau Claire, WI 54701. There will be no visitation prior to the service on Tuesday. Private family committal service will take place at Forest Hill Cemetery, Eau Claire.
Friends and family may offer condolences online at www.hulkefamilyfh.com.