In Memory
Sue Kensmoe (Ives)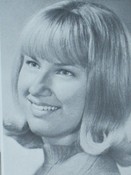 DOB: Nov. 26, 1949
DOD: June 18, 1999
Susan (Kensmoe) Ives, 49, of Osseo, died Friday, June 18, 1999, at the Osseo Area Nursing Home.
She was born November 26, 1949, in
Eau
Claire to Kenneth and Phyllis (
Schuh
)
Kensmoe
. She graduated from Memorial High School in 1967. She married Dale Ives on May 15, 1971, in
Eau
Claire. They lived all their married life in the Town of Otter Creek, in rural
Osseo
. She was employed as a data computer operator for
Schumacher
, Nelson, and
Grambo
Accounting Office in
Eau
Claire for many years.
She is survived by her husband, Dale of
Osseo
; 2 daughters, Kari and Angela Ives all of
Osseo
; her mother, Phyllis
Kensmoe
of
Eau
Claire; mother-in-law, Grace Ives of
Osseo
; 2 brothers, Keith (Chris)
Kensmoe
of Rothschild, John (Kathy)
Kensmoe
of Greensboro, NC; sister, Pamela (Brad) Mayer of
Las
Alamos
, NM; brothers and sisters-in-law, Barbara and Robert
Schumacher
and Jeanette Ives all of
Eau
Claire, Michael and
Eldora
Ives of Whitehall, Steve and Carol Ives, Mark Ives all of
Osseo
, Kenneth and Marilyn Ives of Fall Creek, several nieces and nephews.
Burial will be in the church cemetery at St. Peter's Lutheran Church in Foster.