In Memory
Carol Johnson (Strassman)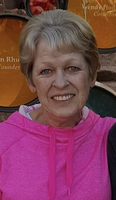 Carol A. Strassman, 73, of Winter, WI passed away on Thursday, June 10, 2021 at her home in Mesa, AZ.

Carol was born on March 12, 1948 in Chippewa Falls, WI to Ivan and Selma (Helland) Johnson. She graduated from Eau Claire Memorial in 1967. Carol married Thomas Strassman on September 23, 1978, and they lived in Eau Claire until 2006 when they moved to their home in Winter. Carol enjoyed spending time with Tom and their friends four wheeling, and shooting darts.

Carol is survived by her husband, Thomas Strassman; daughter, Tina (Scott) Milward; grandchildren, Zachary (Alyssa) Milward, Benjamin Milward, Dylan Thorson, and Brianna Thorson; brother, Don (Diane) Johnson; sister, Joyce (Stan) Davidson, and many nieces and nephews.

Carol was preceded in death by her parents; son, Curtis; 5 brothers and 2 sisters.
A private service was held with family in Arizona. A Celebration of Life will be held on Saturday, July 24, 2021 from 12:00-3:00 pm at Couderay Riverside Golf Course, 11701 W State Rd 27/70, Radisson, WI 54867
Published by Leader Telegram on Jul. 18, 2021.