In Memory
Gerald Jacobson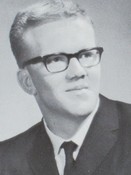 DOB:
DOD: April 15, 1981
Posted: Thursday, April 16, 1981 (Eau Claire Leader Telegram)
Gerald F. Jacobson, 32, 2526 May St., died Wednesday at Sacred Heart Hospital.
He was born in Eau Claire. He worked at Miller Standard on Hastings Way. He served with the Marines from 1967 to 1969.
Survivors include his parents, Mr. and Mrs. Francis Jacobson, Eau Claire; One half-brother, John, Wooster, Ohio; One half-sister, Mary Fought, Winter Park, Fla.; paternal grandfather, John Jacobson, Eau Claire; Maternal grandparents, Mr. and Mrs. Marshall Kneeland, Fall Creek.
Services will be at 1:30 p.m. Saturday at Immaculate Catholic Church with burial in Sacred Heart Cemetery.