In Memory
Patricia Hanson (Bilderback)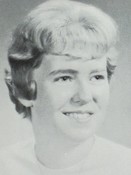 DOB: Sept. 7, 1949
DOD: June 11, 1993
Patricia A. (Hanson)
Bilderback
, 43, of
Gahanna
, Ohio, formerly of
Eau
Claire, died Friday, June 11, 1993, at her home after a battle with cancer.
Patricia was a 1967 graduate of
Eau
Claire Memorial High School. She was a loving wife and mother.
Survivors include her husband, Leon; children, Anthony, Angela, Michael and Joseph, all at home in
Gahanna
; a grandmother, Clara Hanson; uncles, Vernon Hanson and Robert Hanson; cousins, Gladys (Miller) Barber of
Eau
Claire, Mary (Miller)
Melsness
of
Altoona
, Holly Hanson of
Sturtevant
; godparents,
Irving
"Tommy" and Katherine
Franson
; many nieces and nephews;
She was preceded in death by her mother, Madeline Hanson.