In Memory
Alice Gardow (Risler)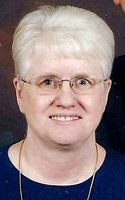 DOB: 2/09/49
DOD: 5/21/17
Alice Jeanine Risler, age 68 of Eau Claire, WI, passed on to eternal life on Sunday, May 21, 2017.
She was born on February 9, 1949, in Eau Claire, the daughter of the late Duane and Marjorie (Peterson) Gardow. Alice attended school in Eau Claire and graduated from Memorial High School in 1967. On January 16, 1971, Alice was united in marriage to Kenneth A. Risler at Immaculate Conception Catholic Church, Eau Claire, and to this loving union, three children were born.
Alice devoted her life to raising her children and making a beautiful home for her family. Alice worked hard every day to teach her children strong family values. During her last days of her life her family came together to show the never ending love and support that she instilled in them every day. The most treasured enjoyment of Alice's life was her family, especially her precious grandchildren. Her memory will forever be in their hearts.
Alice and her family enjoyed spending time fishing, playing games, going on vacations and were active members of 4-H. Alice was a longtime faithful and active member of St. Joseph's Catholic Church in Rock Falls, WI, serving in many capacities throughout the years. She enjoyed cooking and baking as well as bowling, gardening, playing cards and being involved in the neighborhood birthday club. Alice and Ken enjoyed many trips together with close friends and family, especially their summers at their camper fishing and playing cards.
Alice will be forever missed by her three loving children, Kevin (Natasha) of Mondovi, Kelly (Scott) Glassbrenner of Eau Claire and Karen (Barry) Weiss of Eau Claire; six precious grandchildren, Ethan, Skylar and Zandar Risler, Chase Glassbrenner, and Sophie and Garrett Weiss; sister-in-law, Lorraine Gardow; siblings-in-law, Carol (Raymond) Brantner of Mondovi, Edward (Linda) Risler of Mondovi, Raymond (Cheryl) Risler of Mondovi, David (Janelle) Risler of Mondovi, Roger (Carol) Risler of Mondovi, Cindy (Charles) Hardy of Mondovi, Jo Anne (Jody) Davis of Mondovi, Donna (Jamie) Davis of Gilmanton, Dennis Fedie of Durand and Leon Ableindinger of Mondovi; many nieces, nephews, other relatives and friends.
She was preceded in death by her husband, Kenneth; parents; sister, Judith Weiss; brother, Richard Gardow and sisters-in-law, Bernice Fedie and Diane Ableidinger.
A Mass of Christian Burial will be held at St. Joseph Catholic Church of Rock Falls, WI, on Friday, May 26, 2017 at 11:00 a.m. with Father Joseph Nakwah celebrating. Burial will follow at the Parish Cemetery. A time of visitation and support will be held at the Talbot Family Funeral Home, Mondovi Chapel, on Thursday, May 25, 2017, at 4:00 p.m. until 7:00 p.m. and again at the church on Friday from 10:00 a.m. until the hour of the Mass.
Please share your memories and condolences online at www.talbotfuneralhomes.com.