In Memory
James Foster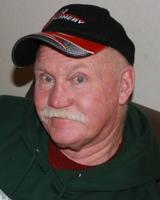 February 10, 2019, our world lost and heaven gained a wonderful man. James Harry Foster (Eleva) passed away peacefully at HSHS Sacred Heart Hospital at the age of 69, with family at his side.
Jim was born on August 15, 1949 in Eau Claire, WI to Harry and Evelyn Foster. He was baptized at the First Baptist Church. He attended Arlington Elementary, Central Junior High and graduated from Memorial High School in Eau Claire. Jim was a proud member of the US Air Force as a Maintenance Analysis Specialist, serving from 1971-1977. He was stationed at Air Force Bases in Lackland, TX, Chinook, IL, Ellsworth, SD, Eielson, AK and ending his service in Marquette, MI. While in Alaska, he enjoyed the many hunting and fishing opportunities the state offered.
Jim married Kathryn (Hass) on February 20, 1982 in a private ceremony at the SHH Chapel and enjoyed 37 wonderful years together. As the saying goes "it was a marriage made in heaven".
Jim worked in sheet metal after completing his schooling at Chippewa Valley Technical College. He worked for a variety of contractors in the local 18 Sheet Metal Union. He spent many years at Sheet Metal Enterprises, working mostly at 3M in Menomonie, WI where he retired in 2011.
After retirement, Jim was never at a loss for something to do, whether it be riding his motorcycle, trips to town with his black lab (Rosie), or his many projects. He loved anything wood or metal completing many projects including: 3 strip wood canoes, snow shoes, traditional bows, duck and goose calls, furniture, wooden bowls, and two authentic trappers log cabins. When he wasn't working in the shop, Jim's love of sweets showed through with his hours spent baking pies, cakes and pastries. Jim was a devout Christian with a wealth of biblical knowledge. He loved to challenge people to a round of trivia.
His greatest pride and joy was his son Ryan, whom he enjoyed numerous adventures with. They would make any adventure they did together fun. He so loved following him during his NDSU football career. Go Bison! He always felt blessed having a wonderful daughter-in-law and 3 beautiful grandsons.
Jim is survived by his wife Kathy, son Ryan (Cassie) of Mandan, ND, grandsons Weston, Jase, Bridger, sister Kathy Evans of Eau Claire, brothers-in-law Steven Hass, Franklin (Jeri) Hass of Fairchild and many nieces and nephews.
He is preceded in death by his parents, sister Connie Simonson, brother-in-law Jerry Evans.
Jim was a friend to many. He was gifted with a sense of humor without even realizing he was being comical. He had a unique way of putting a little twist and embellishment on any story he was telling, while still making it truthful and leaving everyone smiling.
Funeral service will take place at 11 a.m. on Friday, February 15, 2019 at Jacob's Well Church, 3211 N 50th Ave, Lake Hallie, WI. Visitation will take place on Thursday, February 14, 2019 at Hulke Family Funeral Home & Cremation Services from 4 to 7 p.m. and on Friday, February 15, 2019 at church from 10 to 11 a.m. Burial will take place at 2:15 p.m. on Friday, February 15, 2019 at Rest Haven Cemetery, Town of Washington, WI.
Friends and family may offer condolences online at:
https://www.hulkefamilyfh.com/obituaries/1155-Foster-James-Jim-H
Hulke Family Funeral Home & Cremation Services, 3209 Rudolph Road, Eau Claire, WI 54701 is assisting the family with the arrangements.