In Memory
Gerald Fletty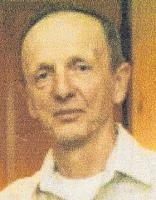 DOB: 8/19/1948
DOD: 7/07/2017
Gerald M. Fletty, 68, of Vancouver, WA, passed away on July 7, 2017. He was born in Eau Claire, WI on Aug. 19, 1948 to Palmer and Magdeline Fletty, one of 13 children.
Gerald served in the U.S. Navy 1969-1972. He married Earna Evans on Jan. 16, 1971 from Everett, WA and stayed in WA, having fallen in love with Earna and the state.
Gerald retired after many years from the printing industry and started his own construction company with his son. There wasn't any part of the business he didn't master. He restored a military jeep and built a rifle which he enjoyed taking hunting with his best friend, Terry Ebert, and fishing with his sons. He also enjoyed designing and building furniture, birdhouses, and a Koi pond. When his sons were younger, he coached their Little League teams every year.
Gerald's greatest joys were the summer car trips with his wife and grandkids and his golf games. Alzheimer's took the mind (and talents) away from an exceptional man.
Gerald is survived by his wife, Earna; sons, Michael and Matthew; grandsons, Anthony, Andrew and William; granddaughters, Ashley Thurman and Lexi Fletty; brothers, Peter and Paul (Charlie) Fletty; sisters, Mary Lindner (Rich), Lavonne "Mugs" Naser, Patricia MacLaughlin (Jim) and Catherine Olsen (Mitch); sisters-in-law, Karen and Tootie Fletty; 36 nieces and nephews; and a lifetime of young people who called him "Dad".
He was preceded in death by his parents; six brothers, Tom, Joe, John, Don, Dave and Buster; and Burt and Thelma Evans.
An Open House and Celebration of Life will be held at his home on his birthday, Aug. 19, 2017 from 1 to 4 p.m. Remembrances can be made to the Alzheimer Assoc. or Hospice Care Program/Kaiser Foundation.
Please sign his guest book at: www.columbian.com/obits.