In Memory
Harold Flaten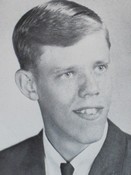 DOB: Sept. 2, 1948
DOD: Jan. 17, 1972
Funeral services for Yeoman 3C Harold F. Flaten, 23, son of Mr. and Mrs. Horace Flaten, 611 Babcock St., will be at 1:30 p.m. Thursday in Good Shepherd Lutheran Church.
Yeoman Flaten was lost along with five other Navy personnel during an air support mission from Naples, Italy to Sigonella, Sicily on Jan. 17, 1972. His body was recovered Oct. 18, 1972, from a plane wreckage on Mt. Etna.
He was a life-long resident of Eau Claire and graduated in 1967 from Memorial High School.
Besides his parents, he is survived by his wife, Elke, a son, William, both of San Francisco, CA; and grand-parents Mr. and Mrs. George Flaten of Eau Claire.