In Memory
Harold Dawson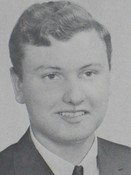 Harold L. Dawson
Harold L. Dawson, 43, of 106 Moone Cross Drive, died Friday, May 28, 1993. He was a son of the late Herbert L. and Lois M. Smith Dawson.
A graduate of Eau Claire Memorial High School, he received an associate degree from Chippewa Valley Technical College of Eau Claire and was retired from the Army. He was a Vietnam War veteran.
Surviving are his wife, Gladys Binion Dawson; a stepson; Cotee Billion Jr. of Columbia; a daughter, Nichole Dawson of Columbia; brothers, Howard and Lloyd Dawson, both of Eau Claire, Donald Dawson of Green Bay, and Mark Dawson of Withee; sisters, Marie Douglas of Elk Mound, Donna Bignell of Pekin, Ill., and Marlene Riegle of Eau Claire; and two stepgrandchildren.
Services will be held at 10 am Wednesday at Bostick-Tompkins Funeral Home Chapel with burial in Memorial Gardens of Columbia, SC with full military rites. The family will receive from 7 to 8 tonight at the funeral home.
Published by:"State" Columbia, SC, June 1, 1993