In Memory
Richard Cartwright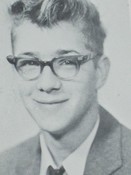 DOB: 1948
DOD: 1967
Richard L. Cartwright, 18, was fatally injured when a car in which he was a passenger struck a freight train.
He was born in Eau Claire and lived here all his life. He was a member of the senior class of Memorial High School, a member of the Future Farmers of America and the Lutheran Church of the Good Shepherd.
He is survived by his parents, Mr. and Mrs. LeRoy Cartwright; three sisters, Mrs. Richard Meyer, Madison, Mrs. Jack Bixby and Nancy Cartwright, both of Santa Monica, CA; three nieces and two nephews.
Richard will be buried in the Waneka Cemetary in Dunn County, WI.