In Memory
Judy Buzzell (Bushell)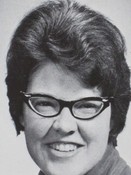 DOB:
DOD: Sept. 12, 1985
Posted: Monday, September 16, 1985 (Eau Claire Leader Telegram)
Judith A. Bushell, 37, 1534 E. Madison St., died Thursday at home.
Judith was born in Waukesha and lived in Eau Claire most of her life.
Survivors include two daughters, Heidi & Alicia, both of Eau Claire; her parents, Clell and Joyce Buzzell, Eau Claire; two brothers, Neil, Marysville, Wash., Bryon, Eau Claire; and a sister, Cheryl Buzzell, Lawrence, Kansas.