In Memory
Mike Buckley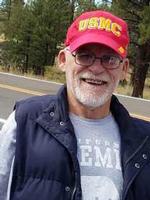 Michael "Mikey" Buckley of Flagstaff, Arizona passed peacefully January 26, 2019 at home surrounded by family and friends. Born in Eau Claire, Wisconsin on March 13, 1949 he had been a well-loved member of the Flagstaff community since 1988. Mikey served in the United States Marine Corps and was a Vietnam Veteran. He is perhaps best known for his sunny disposition, toothy grin and distinctive giggle. He was active among veteran groups including Veterans of Foreign Wars, The American Legion, and Marine Corps League. He loved music, his dogs, and scotch. Mikey was well liked by everyone he met and will be missed greatly.

He is survived by his wife Billie Rush, daughter Jaime Jacobson, sons Shawn Buckley and Ryan Buckley; brothers Tim Buckley and Chuck Buckley; grandsons Taylor Price and Trevor Price. He was preceded in death by his parents, William Buckley and Shirley Buckley, brother Bill Buckley and sister Ann Madrid.

There will be a viewing Thursday, January 31, 2019 at Lozano's Flagstaff Mortuary from 5 to 7 p.m. Services will be held at the Arizona Veterans Memorial Cemetery at Camp Navajo Friday, February 1, 2019 starting at 11:00 a.m. followed by a Celebration of Life at The American Legion in Flagstaff at 12:30 pm. For anyone wishing to join the procession, please arrive at Lozano's before 10:00 a.m.

In lieu of flowers, the family asks that you make a donation to the Marine Corps League Toys for Tots.
Mike's obituary is also posted on Lozano's Flagstaff Mortuary website:
https://www.flagstaffmortuary.com/obits/obituary.php?id=672164