In Memory
Jeanne Bryan (Weiberg)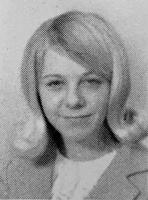 DOB: Dec. 17, 1948
DOD: Nov. 2, 2000
Posted: Monday, November 6, 2000 (Leader Telegram)
Jeanne Weiberg, 51, Woodburn, Indiana, former Eau Claire resident, died November 2, 2000, at her home.
She was born December 17, 1948, to Bernard and Kathryn (Steinberg) Bryan and graduated from Memorial High School in 1967. After graduation she attended beauty school.
She is survived by her husband, Kenneth Weiburg of Woodburn, Indiana; two sons, Kelly (Brenda) of Eau Claire and Kevin of Eau Claire; her mother, Kathryn Bryan of Eau Claire; a sister, Janice of Missouri; a brother, Dennis (Betty) Bryan of Eau Claire; and two granddaughters.
She was preceded in death by her father, Bernard, in 1965.
Services will be at 11 a.m. Wednesday, Nov. 8th, at Smith Funeral Chapel, with Pastor Brent Parrish officiating. Interment will be in Lakeside Cemetery.