In Memory
Dean Brown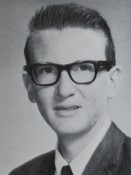 Dean Loren Brown
Dean Loren Brown of the town of Trego, WI, died on Thursday, April 4, 2002, at his residence.
A long-time resident of Trego, Dean was born on Aug. 31, 1949, in Shell Lake to Forrest and Lucille (Clayton) Brown. He graduated from Eau Claire Memorial High School then served in the United States Navy during Vietnam. He worked at Pair O'Lakes Lodge as a cook and bartender before working for eight years at Link Brothers in Minong.
Dean loved fishing, hunting, and playing pool.
He is survived by his mother, of Spooner; two brothers, Dale Brown of Spooner and Bruce (Deb) Monroe of St. Mary's, Ga.; a sister, Doris (Bill) Cote of Spooner; a half-brother, Ken Bob of Rock Island, Ill.; and many nephews, nieces, other family members, and friends.
He was preceded in death by his father and one sister, Donna Sass.
Published by: "The Spooner Advocate" on April 8, 2002.
A private service of comfort will be held for the family on Tuesday, April 9. Visitation will be held from 4 to 8 p.m. on Monday at Dahl Funeral Home in Spooner.
Honorary casket bearers will be Jim, Mike, and Mel Buckwheat, Mike Nichols, Bill Cote, and Dave Larson.
Interment with military honors will occur at a later date at Spooner Veterans Memorial Cemetery.