In Memory
Jim Bridges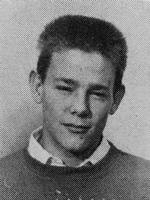 DOB: 6/15/48
DOD: 6/18/13
James "Jim" P. Bridges, 65, of Eau Claire died Tuesday, June 18, 2013, at Mayo Clinic Health System in Eau Claire due to a tragic work accident.
Jim was born in Eau Claire, WI, on June 15, 1948, a son of Lawrence and Evelyn (Michaelson) Bridges. On April 19, 1969, Jim married his high school sweetheart, Sue Fisher in Eau Claire.
Jim had worked for 24 years at Uniroyal. He most recently worked construction for C&E Wurzer Builders.
Jim enjoyed gardening, hunting, camping, and fishing with his wife, Sue and family. He also spent countless hours building wood projects for his family and friends. He was an avid cribbage player and a talented handyman.
Jim will always be remembered for his constant laugh, smile and his great sense of humor. He had the biggest heart, the warmest hugs, and could brighten everyone's day just by his presence. Jim was the most unselfish person and helped anyone without them asking. He was so loved and will be forever missed by his family, friends and all who knew him.
Jim is survived by his wife, Sue; daughter, Jennifer (fiancé, Doug Thorson) Bridges; son, Chris (Chrissy) Bridges; two grandsons, Tyler and Colton Bridges; brother, Mike (Linda) Bridges; four sisters, Beatie Peterson, Betty Hallquist, Mary Bauer and Jean Olson; father-in-law, Bob Fisher; and numerous extended family members.
He was preceded in death by his parents; four brothers, Don, George, Lawrence, and Bob Bridges; sister, Margaret Lindsley; and mother-in-law, Avis Fisher.
Mass of Christian Burial will be held at 11 a.m. on Friday, June 21, 2013, at St. Olaf Catholic Church, 3220 Monroe St. in Eau Claire with Father Brian Konopa officiating. Visitation will be from 4 to 8 p.m. with a Public Prayer Vigil at 7:30 p.m. on Thursday, June 20, 2013 at Lenmark Funeral Home WEST CHAPEL, 1405 N. Clairemont Ave., in Eau Claire and again one hour prior to the Mass Friday at the church. Interment will be in Lakeview Cemetery in Eau Claire.
To express condolences online, please visit obituaries www.lenmarkfh.com.