In Memory
Sherry Bell (Cook)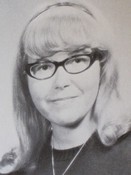 DOB: 8/07/48
DOD: 6/23/13
Sherry Bell Cook, 64, of Strum, passed away Sunday, June 23, 2013, at Sacred Heart Hospital in Eau Claire surrounded by her family.
She was born on August 7, 1948 in Metropolis, IL, to William and Olive "Tanie" (Smith) Bell.
Sherry enjoyed her ministry through gospel blue grass music. She loved her music and Jesus. Sherry also loved her job as an activity director.
Sherry is survived by her children, David (Sarah) Dietz of Rice Lake and Sarah Dietz of Strum; three grandchildren, Haven, Ethan, and Garrison; five siblings, Veronica (Butch) Gullickson of Rock Falls, Ricky Bell of Augusta, Bill (Carol) Bell of Mondovi, Romona Sue (Bill) Coe of Salado, TX, and Judith Bonnin of Rice Lake; six nieces and nephews, Melissa and Matthew Gullickson and Billie Jo, Joshua, Jason, and Nathan Bell; and many other relatives who loved her dearly.
Sherry is preceded in death by her parents.
A Celebration of Life will be held at Barnabas Christian Coffee House, 19 W. Spring St., Chippewa Falls, at 1 p.m. on Sunday, June 30, 2013. A potluck luncheon will follow. Burial will be held at a later date at Brunswick Cemetery.
Smith Funeral Chapel assisted the family with arrangements.