In Memory
Kenneth (Jack) Belden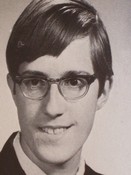 DOB: 3/11/49
DOD: 11/11/94
Kenneth A.P. Belden, 45, of Pasadena, CA, died Friday, Nov. 11, 1994, at St. Luke's Medical Center in Pasadena, CA.
Ken was born March 11, 1949, to Keneth and Evelyn Belden in Eau Claire. He graduated from Eau Claire Memorial High School in 1967 and attended the University of Wisconsin - Eau Claire. He worked for Luttrell's Photography in Eau Claire and was currently a paralegal for Arco Oil of Los Angeles, CA.
Survivors included his mother, Evelyn Belden of Eau Claire; three brothers, Dennis (Sherrie) of Eau Claire, Randy (Patti) of Anoka, MN, and Mike (Lisa) of Maple Grove, MN; three sisters, Marlene (John) Buxton of Eau Claire, Darlene (Mike) Lucas of Cadott and Sue Belden of Eau Claire; eight neices; eight nephews.
Ken was preceded in death by his father, Kenneth Belden.
Funeral services will be at 12 p.m. Wednesday, Nov. 16, in We Kirk Chapel at Forest Lawn Cemetery, Glendale, CA. Burial will be in Forest Lawn Cemetery.