In Memory
Scott Augustine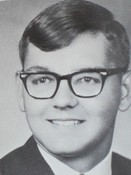 DOB: June 22, 1949
DOD: Dec. 12, 1993
Scott L. Augustine, 44, of rural Hudson, died 12/12/93, at his home from cancer.
He was born on 6/22/49 in Milwaukee to William and Lola (Cavanaugh) Augustine. Scott received his bachelor of science degree in psychology in 1971 from the University of Wisconsin - Eau Claire. He worked for Viking Electric beginning in Eau Claire, then in the telemarketing department in St. Paul.
Scott married Marcia Voth on 8/14/71 in Eau Claire. They lived in Hudson the last 14 years after being transferred there by his employer. He was an avid sportsman and outdoorsman.
Survivors include his wife, Marcia; two daughters, Shelli Ann and Sara Lyn; a brother, William.
He was preceded in death by his parents.